DAS PERFEKTE STEAK!

Stahlharte Pfannen für zartes Fleisch und perfekte Röstaromen.
DAS PERFEKTE STEAK! Stahlharte Pfannen für zartes Fleisch und perfekte Röstaromen.
Ob zum Grillen, Anbraten oder Rösten: eine gute Eisenpfanne gehört in jede Küche - und sie hält ein Leben lang!
Denn das Geheimnis von besonderen Gerichten liegt nicht nur in der Zubereitung und Qualität der Lebensmittel, ganz entscheidend ist auch das richtige Werkzeug.
Einmal eingebrannt, entwickeln die Pfannen der Serie Mineral B Pro eine Patina, die wie eine natürliche Antihaftbeschichtung wirkt. Dank der Maillard-Reaktion erhalten die Gerichte zudem ihre unverkennbaren, leckeren Röstaromen. Diese Vorteile weiß auch das innovative Kochmagazin BEEF! zu schätzen und empfiehlt diese vorzügliche Eisenstahl-Serie.
Die Mineral B Pro BEEF! Edition enthält hochwertige Bratpfannen sowie Sauteusen in verschiedenen Größen.

de Buyer - Mineral B Pro BEEF! Edition - Round Frypan 20 cm
Ideal for searing, grilling, browning - round pan in Lyon shape for easy sliding of the food - recommended by BEEF! de Buyer - Round iron pan with cast stainless steel handle - Whether for grilling, searing or Roasting: a good iron pan belongs in every kitchen - and it will last a lifetime! As soon as the iron pan reaches temperatures above 140 °C, the pores of the food close because the natural juice of the food caramelizes (the Maillard reaction). The crust that forms keeps moisture from evaporating. The food is thus brown and crispy on the surface and remains tender and juicy on the inside. Perfect for roasting meat and potatoes and preparing crispy crêpes and delicious omelettes! An iron steel pan is burned in before use and turns black over the course of use. The more often the pan is used, the better its natural non-stick effect, i.e. the blacker it is, the less it sticks. Ø 20 cm (Ø floor = 14 cm) H= 3.3 cm Length with handle= 37 cm V= 0.8 liters - 1.1 kg Iron pan with a layer of organic French beeswax that protects against oxidation, facilitates baking and improves non-stick properties with handle made of cast stainless steel 2.5 to 3 mm thick For searing, grilling and browning GUARANTEED PFAO and PTFE free Can be used on all types of stoves - including induction Hand wash The manufacturer does not guarantee the flatness of the base if the diameter of the heat source differs by more than 1.5 cm in relation to the base of the pan. There are no restrictions for using the iron pans on full surface induction and gas stoves.
de Buyer - Mineral B Pro BEEF! Edition - Round Frypan 32 cm
Ideal zum Anbraten, Grillen, Bräunen - runde Pfanne in Lyoner Form zum leichten Hinausgleiten der Speisen - empfohlen von BEEF! de Buyer - Runde Eisenpfanne mit Stiel aus Gussedelstahl - Ob zum Grillen, Anbraten oder Rösten: eine gute Eisenpfanne gehört in jede Küche - und sie hält ein Leben lang! Sobald die Eisenpfanne Temperaturen über 140 °C erreicht, verschließen sich die Poren der Lebensmittel, da der natürliche Saft der Lebensmittel karamellisiert (die Maillard Reaktion). Die sich bildende Kruste hält Feuchtigkeit davon ab, zu verdampfen. Das Essen wird somit braun und knusprig auf der Oberfläche und bleibt innen zart und saftig. Perfekt zum Braten von Fleisch und Kartoffeln und zur Zubereitung von knusprigen Crêpes und leckeren Omelettes! Eine Eisenstahl-Pfanne wird vor Gebrauch eingebrannt und färbt sich Im Laufe des Gebrauchs schwarz. Je häufiger die Pfanne gebraucht wird, desto besser wird ihre natürliche Antihaftwirkung, das heißt je schwärzer sie ist, umso weniger haftet sie. Ø 32 cm mit Gegengriff (Ø Boden = 24 cm) H= 4,5 cm L = 62 cm V= 2,7 Liter - 2,63 kg Eisenpfanne mit einer Schicht aus biologischem, französischem Bienenwachs, die gegen Oxidation schützt, das Einbrennen erleichtert und die Antihaftwirklung verbessert mit Stiel aus Gussedelstahl 2,5 bis 3 mm stark Zum Anbraten, Grillen und Bräunen GARANTIERT PFAO- und PTFE-frei Auf allen Herdarten einsetzbar - inkl. Induktion Handwäsche Der Hersteller übernimmt keine Garantie für die Planheit des Bodens, wenn der Durchmesser der Hitzequelle mehr als 1,5cm im Verhältnis zum Boden der Pfanne abweicht. Keine Einschränkungen gibt es für die Verwendung der Eisenpfannen auf Vollflächeninduktion und Gasherden.
de Buyer - Mineral B Pro BEEF! Edition - Round Country pan 24 cm
THE PERFECT STEAK - Steel-hard pans for tender meat and perfect roasting flavours - recommended by BEEF! Whether for grilling, searing or roasting: a good iron pan belongs in every kitchen - and it will last a lifetime! Because the secret of special dishes lies not only in the preparation and quality of the food, the right tool is also crucial. Once burnt in, the pans of the Mineral B Pro series develop a patina that acts like a natural non-stick coating. Thanks to the Maillard reaction, the dishes also get their unmistakable, delicious roasted aromas. Country pan for different cooking styles: searing, sautéing, browning, simmering... Perfect for preparing large quantities and for sautéed potatoes. The high edges limit projections when cooking meat. Ø 24 cm (Ø bottom = 17 cm) H= 7,8 cm L = 45 cm V= 2,5 L - 1,8 kg Heavy quality iron coated in beeswax: protective coating against oxidation; facilitates seasoning. Enhanced non-stick qualities when used for the first time. Excellent caramelization of food. Natural non-stick properties: gradual seasoning. Riveted cast stainless steel handle curved in French-style: easy handling; ergonomic. Tip: preheat using a little fat. Care: Season when first used. Deglaze, rinse with warm water, dry and lightly oil. Store in a dry place. Do not use detergents or put in the dishwasher. Can be used on all types of cooker - incl. induction All information about the pans from de Buyer you can find on data sheets tab. FOR ALL HOTPLATES INCLUDING INDUCTION.
Zum Grillen, Anbraten und Rösten – für perfekte Röstaromen und einen unvergleichlichen Geschmack
Ohne Beschichtung erhält die Pfanne mit der Zeit natürliche Antihafteigenschaften. Je öfter die Pfanne verwendet wird, desto mehr brennt sie ein und desto weniger haftet sie.
Veredelt mit französischem Bienenwachs für einen natürlichen Schutz vor Oxidation und zum einfachen Einbrennen der Pfanne.
100 % natürlicher, 2,5 - 3 mm dicker, weißer Stahl, der auch bei Induktion nicht verformt.
robust und unververwüstlich
Mit ergonomisch geformten, sicher vernietetem Stiel aus Edelstahlguss. Die edle Aussparung im Bereich des Logos fungiert als Hitzestopp, der Stiel bleibt kühl.
Der nach oben öffnende Rand und die gewölbten Wände im Lyonnaise-Stil lassen die zubereiteten Speisen ganz einfach hinausgleiten.
Für alle Herdarten inkl. Induktion und den Backofen geeignet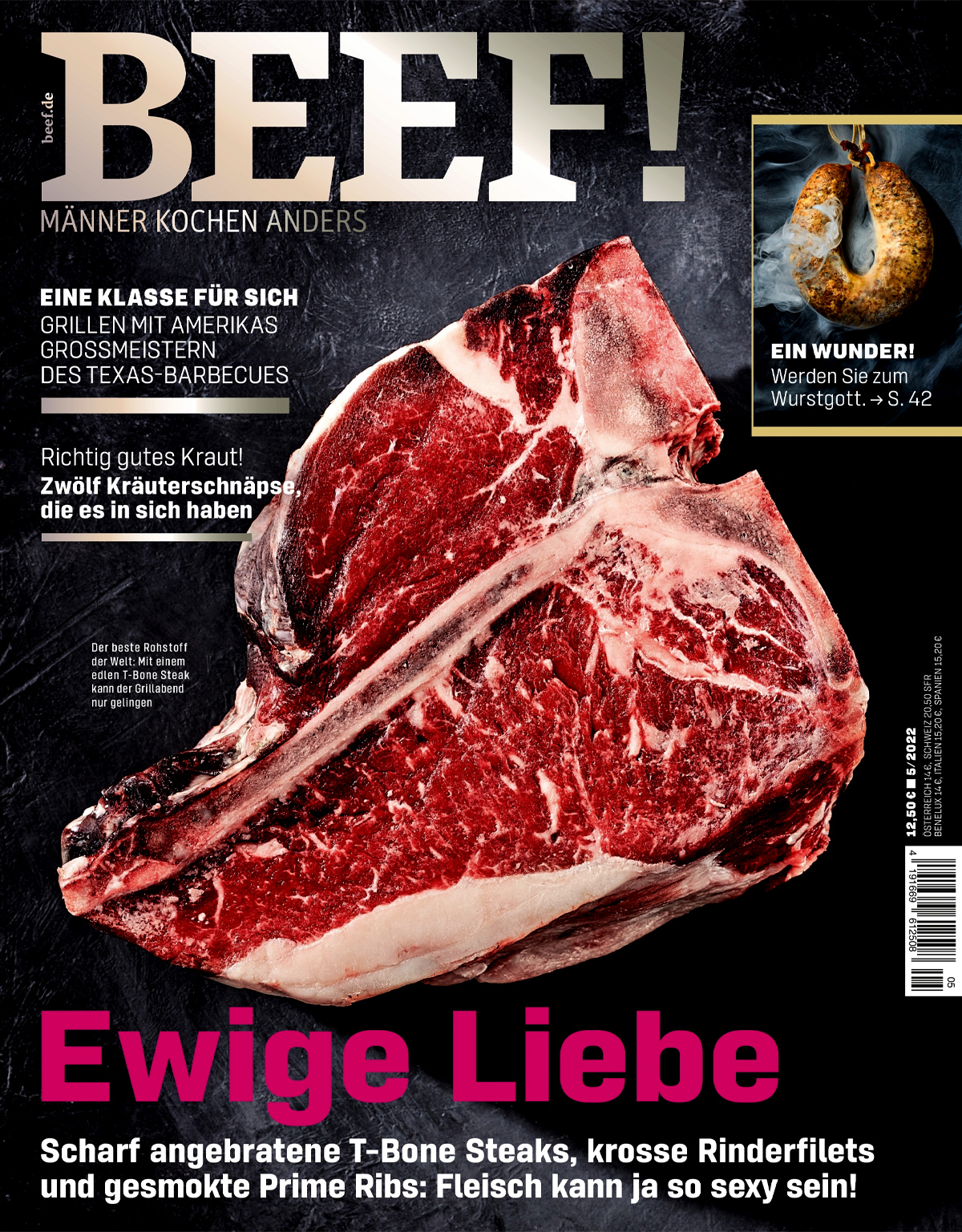 BEEF!
Das ist das erste Kochmagazin für Männer. Edel, informativ, klug, humorvoll. BEEF! liefert seinen Lesern anspruchsvolle, exklusiv entwickelte Rezepte; Spezialwissen über Zubereitungstechniken und die besten Lebensmittel sowie fundierte Hintergrundgeschichten über Koch- und Essgewohnheiten aus aller Welt.

Schwer und unkaputtbar muss sie sein, die Pfanne unseres Herzens, aus Eisen oder Carbonstahl, nie aus Edelstahl, der Wärme nicht besonders gut leitet. Heiß soll sie werden, sehr heiß, und diese Hitze muss sie auch speichern können. Und groß darf sie sein, nicht unter 20 Zentimeter Durchmesser. Denn je größer die er hitzte Fläche einer Pfanne ist, desto weniger kühlt sie herunter, wenn wir ein Steak hineinlegen – ein schweres, großes, sehr bald, sehr heißes Steak versteht sich! Doch ihren eigentlichen Zauber bringen Eisenpfannen nicht mit, sie entwickeln ihn über die Jahre, in den unzähligen Stunden des Bratens von feinstem Fleisch auf Herd und Grill, im Ofen oder sogar in der Glut eines Lagerfeuers – stets gemeinsam mit uns....